We've all heard of the milk bath, vinegar bath, and flower bath, but have you heard of the tea bath?
Also known as "Tub Tea," tea baths are gaining popularity being broadcasted in magazines, movies, and commercials to advertise the spa way of living. These relaxation tea sessions pose to provide many mind and body benefits while leaving your bathroom and skin smelling amazing.
The benefits of these baths include, but are not limited to:
Detoxification of the Skin
Delay in Skin Cell Aging
Assisted Healing of Sores and Wounds
Soothed Stressed Skin
Balanced Skin Tone
Repaired Sun Damage
Promoted Rejuvenation of Skin Cells
Fighting of Free Radicals
Reduced Inflammation
Improved Psoriasis
Reduced Dandruff
Treated and Prevented Acne
Healing of Skin Conditions
Absorption Tea Nutrients Faster than Ingestion
Relieved Congestion and Sore Throat
Silky Hair
Alertness Due to Caffeine Presence
Relieved Body Tension
Reduced Anxiety and Stress
With so many benefits, it is a mystery why more people haven't indulged in this trend of wellness. The tea bath-making process is fairly simple and requires just a few ingredients, but don't worry, we will provide you with all of the information you need to be on your way to creating your own relaxing, spa-like tea bath experience.
The ingredients required to make a tea bath are as follows:
A Paper Tea Bag or Muslin Bag to place your tea mixture in.
(Fun Fact: Paper Tea Bags are recyclable and Muslin Bags are reusable!)
The bags can be filled with anything of your choosing, but here are some suggestions:

Green Tea Leaves
Black Tea Leaves
Dried Lavender
Rose Petals
Epsom Salts
Ground Oatmeal
Dried Mint Leaves, etc.

For a more "true" tea bath, use tea leaves as the sole ingredient.
Essential oils can be added to enhance your experience.
The creation of a tea bath is very simple with just a few easy steps, but it is important to follow them closely. There are a couple different options in how to create the perfect bath, choose the option that is right for you! The instructions are as follows:
Option #1 (Recommended):
Bring a pot of water to a boil on the stove.
Drop your tea creation into the boiling water. (Ingredients can be dropped into the pot outside of a bag; however, this will require a thorough straining before entry into the bath).
Cover the pot, and let the tea steep for about 15 minutes.
Once steeping is complete, add the tea from the pot to your bath water.
Mix the water.
Soak for 20 to 30 minutes.
If you'd like, add essential oils to the bath or more herbs to the water to add to the relaxing effects of the soak
Enjoy!
Option #2
If you are limited on time but still want a good steep, this might be the option for you. It does not allow for the maximum effects that steeping the mixture fully will create, but it will still reap benefits.
Place your tea creation in a coffee filter.
Run hot water through the filter.
Add the tea to your bath water.
If you'd like, add essential oils to the bath or more herbs to the water to add to the relaxing effects of the soak
Soak for 20 to 30 minutes.
Enjoy.
Option #3
This will not be as effective as the previous two options in fully steeping the tea, but it is still a method.
Ensure that your tea bag is extremely secure to prevent loose leaf tea from floating around in your bath.
Simply drop your bag of tea creation into your bath water.
If you'd like, add essential oils to the bath or more herbs to the water to add to the relaxing effects of the soak
Soak for 20 to 30 minutes.
Enjoy.
We would recommend experimenting with different tea combinations to find the best one for your body's needs.

Benefits of various tea-based baths are listed below:
Green Tea Bath Benefits
Reduces Muscle Pain
Softens Skin
Relieves Redness
Creates Anti-aging Effects
Helps skin to Recover from Irritants
Black Tea Bath Benefits
Soothes Skin
Relaxes Muscles
Cleanses and Closes Pores
Helps Treat and Prevent Acne
Lavender Bath Benefits
Promotes Relaxation
Improves Sleep
Improves Mood
Relieves Pain and Inflammation
Rose Bath Benefits
Aids Eczema and Psoriasis
Moisturizes the Skin
Cleanses the Skin
Mood Enhancement
Aids Anxiety
Mint Bath Benefits
Eases Sunburn Pain
Refreshes Skin
Refreshes Senses
Clears Nasal Passages
Reduces Bacteria
Oatmeal Bath Benefits
Creates Protective Layer on the Skin
Holds Moisture In
Eases Inflammation
Cleanses the Skin
Used to Treat Eczema and Psoriasis
Herbal tea bath bombs create a similar effect to using tea bags, and you can customize them to your own liking! These bombs make the perfect gift for a relaxation lover. Below is a recipe for a herbal tea bath bomb.
Herbal Tea Bath Bomb Recipe
Ingredients
½ cup of desired tea leaves
1 cup of baking soda
½ cup of epsom salts
½ cup of citric acid
½ cup of cornstarch
3 tbsp of melted coconut oil
1 tsp of water
10 drops of desired essential oil
Mold for desired shape of bath bomb
Instructions
In a large bowl, mix baking soda, epsom salts, and cornstarch.
In a separate small bowl, mix coconut oil, water, and essential oil.
Mix together the two bowls in the large bowl until it has the consistency of wet sand.
Add loose leaf tea.
Put mixture into your mold, and squeeze it tightly so it is very compact.
Let mixture sit in the mold overnight to set and harden.
When ready, gently tap the outside of the mold and release the bath bomb.
Be very patient with the last step to make sure the bomb doesn't break.
Drop it in your bath and enjoy!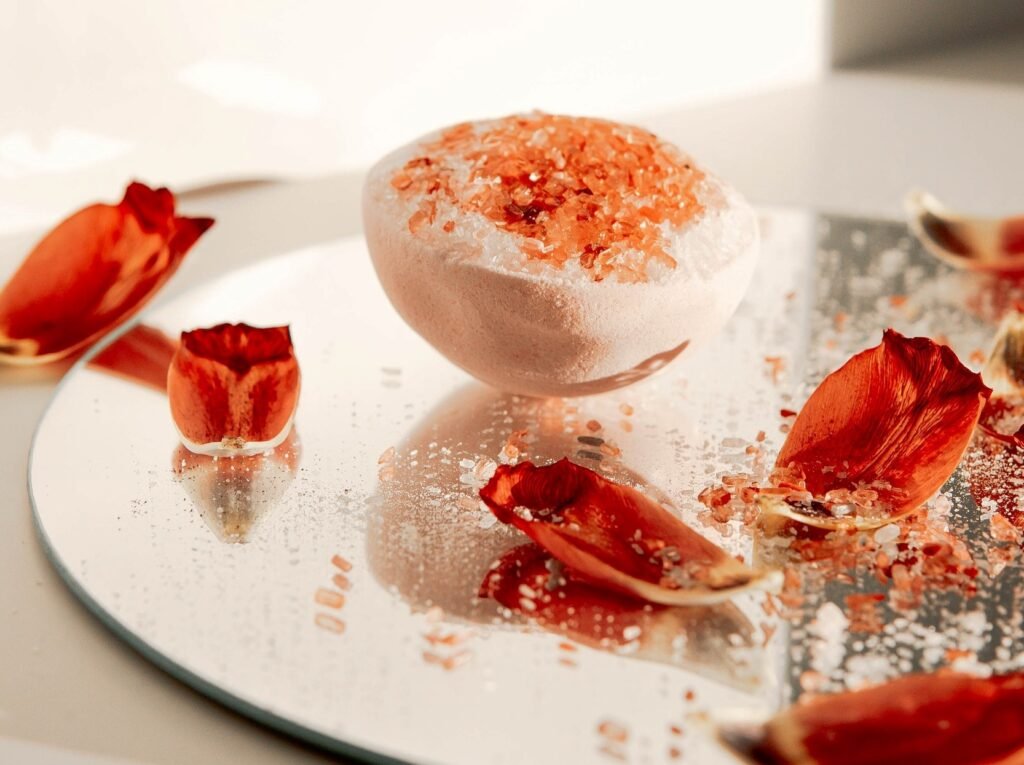 Tea baths provide a lot of benefits but there are some precautions you should be aware of before partaking in this practice. These warnings and side notes are listed below:
The tea can stain the bathtub if not immediately rinsed/cleaned.
The water required is very hot, and if you do it too frequently it will lead to temporary muscle weakness which could lead to legs giving out or falling.
Being in very hot water too frequently could lead to a reduction in healthy fat deposits.
The hot water can lower your blood pressure leading to temporary dizziness and weakness, so when you are getting out of the tub be very careful to maintain composure.
You might find out you are allergic to certain teas or herbs through skin irritation.
Water used to steep tea is extremely hot, so make sure you let it cool down before entering the bath and limit a tea bath to once a week to prevent negative effects.
Be mindful of what time of day it is in regards to what ingredients you are using. Black tea-based baths might hamper your sleeping schedule if the bath is taken late at night due to the caffeine levels present. Lavender baths might make you really sleepy which could be bad during the day.
If you enjoy tea baths in moderation there aren't any downsides, these results may only occur if it is done very frequently.
Enjoy a new method of relaxation with your new knowledge of tea baths!
Disclaimer: This blog provides trusted advice for a healthier life; however, it is not a doctor's prescription.